You can find here a collection of
OUR LEGAL ARTICLES
&
LECTURES PRESENTATIONS
Published by the magazines L'Indicateur and InThailandia translated into English.
Some of the articles are also reported underneath the pages related to the various legal subjects.
We recommend our readers to look for the subject of interest and to read the articles throughly in order to better understanding the laws and the traditions governing the Kingdom of Thailand. Reading our articles may as well be a good help to understand the best procedures that your case requires.
To read our article in English
click on the titles below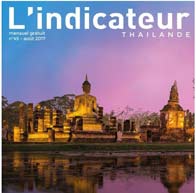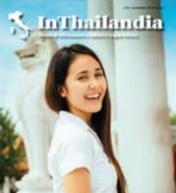 L'Indicateur
In Thailandia
You can find our articles
in French and in Italian browsing the magazines
L'Indicateur and In Thailandia

The Thai Criminal System
Discover the differences between the Thai and the westerns Criminal systems. How to defend and protect yourself and how to choose the best criminal lawyer.

The Thai Criminal Law System - Part two and three
Part 2 & 3

How to Obtain a Just Compensation for Damages
What is the best and fastest way to get a just compensation? How should we proceed.

Investing for your Thai Family
investing in Thailand. Discover how to protect yourself and your loved ones

Divorcing in Thailand
Divorcing in Thailand can be quick and easy or a never-ending "War of the Roses"

Clara Pacta Amicitia Longa
All you need to know before marrying in Thailand

To live and die in Thailand
Inheritance Law. What you need to know.

Real Estate law - Real estate market in Pattaya
Interview

His Majesty the Contract
All you need to know before signing a contract

The Little Prince... The Lease Contract
All you need to know before renting out or paying for renting a property in

Her Highness the Company Ltd., ...a Virtual Wife
What you need to know before establishing a new company

Her Grace the Property and His Excellence the Chanot
How to safely acquire a real estate property in Thailand

Promises and Sighs
Dowry and Berothal
What you need to know about the tradition of the Price of the Bribe and how marital dowry and betrothal (promise of marriage) are regulated by the law in Thailand

The Mediation in the Thai Law
The Importance of Wisdom and Tolerance in the Thai Law System and in the Thai Society


The ineluctable law of a smile... Sous le pavés la plage

We all know that "panta rhei", everything flows. Nevertheless the changes that are taking place nowadays in Thailand are absolutely precedent-less. Even though some of them were somehow expected, nobody could imagine that they might happen so suddenly, "out of the blue", as they would say in english!
The new trend has broadcasted one simple, clear message: law shall be respected...even in Thailand.
In our earlier articles, we have analyzed some aspects of this "new trend", but changes are happening so fast that some of them are already obsolete even while we are writing.
For example, a new tax on inheritance will be very likely soon approved, visa rules, especially in regard of foreigners overstaying, have radically changed. There are rumors of new adjustments coming soon. The government also decided to relentlessly fight corruption at any level. Many police officers have been reshuffled and reassigned, cameras will be monitored to catch people trying to bribe. Companies with foreign national share holders or directors are in many cases under severe, accurate scrutiny in order to unmask "nominees" and "shell-companies".
The notorious "Computer Criminal Act" has been enforced as never before and even writing a slandererousoffense on a social network including FB and Line is considered a serious crime, to not mention sending pornographic pictures to a third party.
We are literally living in a sort of bureaucratic, bloodless "French-May" : ce n'est que un début...Thai style, of course.
Among all this it is very important to keep three things well in mind:
1. Thailand is no longer the country of twenty years ago, when people could drive cars without a proper license risking a hundred baht fine or drink and drive without serious consequences. Now, if you drink you had better not drive for you can get incarcerated till you pay the fine and, if caught a second time within two years from the first offense, immediately deported and blacklisted...Just to make a couple of banal examples.
2. Bribing public officers won'tbuy you out in most circumstances and it could, on the contrary, be a ticket to jail or bigger fines.
3. There is one thing that hasn't changed and will never change: Shouting while claiming your right will, in most cases, take you to hell. And this is a point I very much want to emphasize here. It took it me many years to understand it. Thai people are usually and historically good hearted and tolerant, but they are also a proud people. If you have Thai friends or a Thai partner you certainly know it. They hate arrogance, especially if coming from foreigners. Speaking in a loud voice in a Court of Justice for instance, can be considered contempt of Court. Speaking loudly and harshly in no circumstance will help you, nor make you better "listened to", it will only cause hostility and make your counterpart totally deaf. No matter who she or he is: an officer, a wife, a worker. You can be sure that you will obtain the same negative reaction with no advantage for yourself and even if you are right you will be deemed deadly wrong.
On the contrary, in any possible circumstances, speaking out your reasons firmly, but with courtesy and moderation will do miracles. In an old article we have explained the enormous influence of the tradition on the Thai society sometimes in derogation of written laws. Today, as Court interpreter and law-expert, let me tell you: even in worse cases keep calm, control your tone, and remember: "Kao meung ta liao, tong liao ta tam"...if you enter the town of the cross-eyed, you'd better cross your eyes! Try with a smile.



More links:

Criminal case information

Some questions and answers about Thai law

Repossession in Thailand

Visa for Thai to travel abroad

Legal translation


---